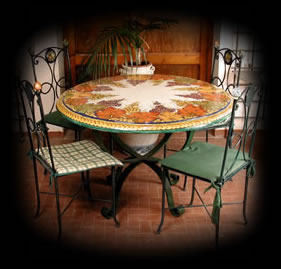 Hand painted Ceramic tables
Welcome to the largest choice of table tops both in ceramic and in volcanic stone, suitable for your house, inside or outdoors.

The are by our best artists and they can be seen in our shop in (Siena-Tuscany-Italy), on the main street Via San Giovanni, or on our . One of the most important peculiarities of our and is the versatility as our artists can paint the pattern that you wish on the shapes and sizes requested for the tops.

You can browse on our website and choose the one you like the most: please, notice that this is only a small proportion, compared to what you can find on our e-commerce: .